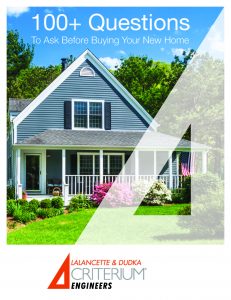 We understand that buying a new home can be an overwhelming process. Whether this is your first home, your third ski home, or an investment property, there is a lot to consider for the newbie and veteran alike. That's why we developed this helpful tool designed to assist you in the early stages of home selection. "100+ Questions To Ask Before Buying Your New Home" will walk you through the property and help you focus on specific items so that the process doesn't get too overwhelming.
As you tour future homes, use this checklist to assist you in evaluating their condition. Don't try to fill it out for every home during your first walk through. Instead, wait until your second or third tour, when you know you are interested in the property. When this checklist is complete, you will have a good understanding of the condition of the homes you are considering.
If you're not actively looking for a new home at the moment, download the checklist for future use or pass on to a loved one! You can also re-purpose this checklist to prioritize repairs for your current home (or commercial building)  or for pre-listing preparations.
Keep in mind that no building is perfect.  You want to keep things in proper perspective and note your major concerns. This will help you concentrate on specific elements of the home. Every building is going to have minor issues, instead focus more on the bigger ticket items. However, you should also examine the portions of the home that you are most able to judge acceptability such as quality of floor coverings, interior wall finishes, etc.
Much like your building inspection engineer will do at your home inspection, it's best to start on the exterior of the building. Do several loops around the house looking at one parameter at a time. The material used on the exterior, quality of doors and windows, grading around the building, and the roof are all important elements. This helpful document has places for you to rate the condition of these areas (1-10) or simply write "Y" (yes) or "N" (no). Don't feel like you need to answer every question. You can also just take simple notes as you walk around the property. We have included space for this as well.
Next we move to the basement/crawl space to assess the structural condition of the building. The quality of the foundation, columns, and girders can all be noted here. You also want to be aware of any moisture penetration you see. These notes will all be handy when you walk through the property with your home inspection engineer. They can point out issues they see and discuss your specific concerns was you're walking through the house.
Going through the interior of a property can be overwhelming at best. If the property is occupied you will have furnishings and decorations obstructing your view and you may become distracted, daydreaming about how you would like to decorate. That is why this checklist is so helpful, it will help keep you focused and remind you to look for things like exhaust fans, GFI outlets, and water pressure.
Don't worry if you can't tell how old the furnace is. Perhaps look for any recent service tags instead. Note the condition of baseboard elements or heat pumps. Is it forced hot air or hot water? If the house is heated with oil, what condition is the fuel tank in? Rest assured your home inspection engineer has an even more extensive checklist than you do! In addition, you will most likely be working with a realtor who can assist with some of these questions as well. And don't forget to obtain the Seller's Property Information Report.
When you are ready, we will inspect the home you are most interested in purchasing and your engineer will review your questions and address your specific concerns. And don't forget, you are invited to the inspection! Seize this rare opportunity to be one-on-one with your home inspection engineer. They will walk you through the property, giving you a unique understanding of your soon to be new home, roof to foundation, inside and out.
Download "100+ Questions To Ask Before Buying Your New Home" HERE! And contact us to schedule your home inspection today!