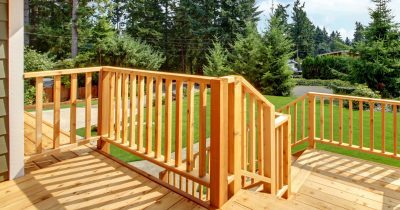 Did you know that more than 20 years ago many decks were attached to buildings using nails that rust away or simply do not have the lateral holding power of bolts. To make matters worse, developing problems are often not noticed in a casual visual inspection because the ledger board is hidden behind the siding. This problem is compounded by past deck building practices not protecting the ledger due to a lack of adequate flashing. On the coast, the salty air creates some very corrosive chemistry on deck components.
Accidents related to stairs are the second-leading cause of accidental injuries in the United States, according to the National Safety Council. Stairs are responsible for 12,000 deaths annually and for non-fatal injuries costing $92 billion a year. Only automobile accidents take a higher toll.
Handrails must run continuous down the flight of stairs with four or more risers and should be 34 to 38 inches above the treads with a minimum distance of one and a one half inches from a wall. Guard rails must be 36 inches above the deck (42 inches for multi-family buildings covered by IBC code) and be able to withstand a 200-pound force from any direction. Balusters must be able to handle a 50 pound per square foot force while being spaced a minimum of four inches apart.
Regular deck maintenance inspections will indicate where typical problems can be found. The North American Deck & Railing Association (NADRA) states, "The evaluation/ inspection of residential decks requires special knowledge, expertise and experience because of the possibility of the gradual deterioration of structural materials from water, climate factors, and corrosion of structural fasteners and connectors.In addition to structural materials, numerous deck elements such as guardrails, handrails, lighting, stairs, and landings may not meet current safety standards as the building codes are updated on a recurring basis, typically three years. A professional inspector should thoroughly examine your deck for occupant safety to ensure the deck is safe for future use. We recommend ASHI-certified home inspectors or a knowledgeable deck builder for inspections of older decks."
Download NADRA's 10-Point Deck Safety Consumer Checklist.
Note: these deck safety resources are provided for consumer guidance only. Contact us to have a licensed, Professional Engineer perform a structural inspection of your deck.