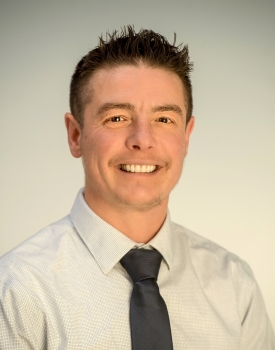 Vince Riva, P.E.
Vince Riva is a licensed, Professional Engineer in Vermont and California. He is also a licensed Vermont Property Inspector and a licensed New Hampshire Home Inspector.Vince has over 15 years of professional practice in facility/site assessment and investigation, construction engineering and management, and field engineering.
Vince holds a Master of Engineering degree in Civil and Environmental Engineering from the Massachusetts Institute of Technology. Additionally, he holds a Bachelor of Science in Engineering in Civil Engineering, Magna Cum Laude, from Loyola Marymount University.
Vince began his engineering career working for United Technologies Corporation as an intern at the Research Center. He progressed to project management of investigation and environmental remediation activities for the corporate office and Pratt & Whitney. He also worked at Fuss & O'Neill providing engineering consulting services to individuals, private organizations, and public agencies.
Before joining Criterium-Lalancette & Dudka Engineers in 2019, Vince was employed with Parsons as a Senior Construction Engineer based in Boston, Massachusetts and beforehand in Oakland, California.  At Parsons, Vince conducted building and facility inspections throughout New England and western New York State on behalf of the United States Postal Service for compliance with the Architectural Barrier Act (ABA). In addition, he routinely prepared reports, cost estimates, bid documents, reviewed and approved payments, and managed construction and repair activities of subcontractors. During his time in Oakland, California, Vince worked with industrial clients associated with manufacturing, chemical, and petroleum production as well as state and military governmental institutions. He was involved in construction planning and logistics, construction monitoring and inspections, geotechnical testing, surveying, civil design, engineering evaluation and analysis, and technical specifications and drawings.
Most recently, Vince was the owner and operator of Stark Hollow Farm raising heritage and primitive breed livestock in Vermont. Although different, he found many uses for his engineering skills, which he applied in growing and making the farm successful.